Rammus is a Tank champion that has high ability to survive with defensive or movement abilities, good ability to deal damage with basic attacks and skill. Rammus is a Tier B champion.
Check out Rammus Wild Rift Build down below: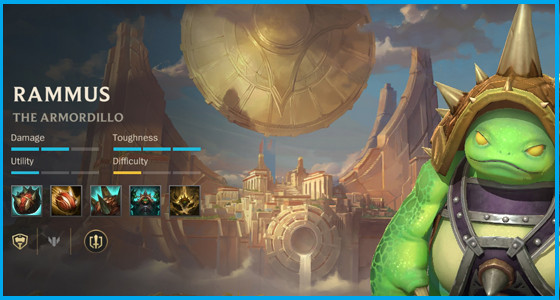 Best Wild Rift Rammus Build
Starting Item
Cloth Armor
Gain 20 armor.
Core Items
Thornmail
Gain 200 max health, 75 armor.
Abyssal Mask
Gain 300 max health, 40 magic resistance, 300 max mana, 10 ability haste.
Randuin's Omen
Gain 400 max health, 55 armor.
Boots & Enchant
Mercury's Tread
Gain 40 move speed, 10 magic resistance.
Redeeming Enchant
Reveal a position and after 2.5 seconds, a beam of light heals allies by 25-375. While enemies take 10% of their max health as true damage. Minions and monsters take 250 damage instead.
Final Build
Thornmail
Abyssal Mask
Redeeming Enchant
Randuin's Omen
Sunfire Aegis
Guardian Angel
Guardian Angel:

Gain 40 attack damage, 40 armor

Resurrect: Upon taking lethal damage, restores

50% base health

and

30% maximum mana

after 4 seconds of stasis.

Sunfire Aegis

: Gain 500 max health, 15 ability haste.

Immolate: Deals 16 - 25 magic damage +0.8% bonus health per second to nearby enemies. Damaging champions or epic monsters with immolate increases its damage by 8% for 5s, stacking up to 6 times.

Flametouch: At max immolate stacks, attacks burn enemies around you for immolate's damage over 3 seconds.

Immolate deals 125% damage to minions and monsters.
Best Rammus Runes
Aftershock:

After immobilizing an enemy champion, gain defense and later deal a burst of magic damage around you.

Defense: 35 AR + 60 bonus and 35 MR + 60% bonus for 2.5s
Damage: 12-110 + 3 max health, magic damage.

Triumph

: Champion takedowns restore 10% missing health. Deal 5% more damage to enemies below 35% health.

Hunter Titan

: Gain 20 max health. Unique champion takedowns grant 20 max health and 3% tenacity.

Hunter Genius

: Gain 3 ability haste. Unique champion takedowns grant 3 ability haste.
Rammus Spells
Flash: Teleport a short distance forward or towards the aimed direction.

Smite:

Deal 440 true damage (440-1000) to a large or epic monster or minion. Smiting monsters

restores 127 health

(70 + 10%). Slaying 4 large monsters upgrades smite to

Chilling Smite

or

Challenging Smite

which can target enemy champions.
Rammus Abilities
Rolling Armordillo (Passive)

: While out of combat gain, 32 movement speed, increased to 96 during Powerball.

Exit combat after not taking damage or using abilities for 5 seconds.

Powerball (1st)

: Accelerates up to 110% bonus movement speed over 6 seconds. Colliding with an enemy deals 110 magic damage (110 +

100%

) in an area, knocking back and slowing enemies by 40% for second.


Activating cancels Defensive Ball Curl and puts it on cooldown.

Defensive Ball Curl (2nd)

: Spiked Shell: Attacks deal 12 bonus magic damage (8+8).

Active: Brace for up to 6 seconds, slowing Rammus by 30% while gaining 83 Armor (30 + 70%) and 27 magic resist (10+35%). While curled spiked shell deals 50% more damage and also applies to enemies that attack Rammus.

Frenzying Taunt (3rd)

: Taunts an enemy champion or monster for 1.25 seconds and gain 35%

attack speed

decaying over 5 seconds.

Soaring Slam (Ultimate)

: Hop into the air and slam down, dealing from

100 magic damage

(100+

50%

) and creating aftershocks for 4 seconds.

Aftershocks deal

30 magic damage

(30+

20%

) every second and slow enemies incrementally by 12%, stacking up to 60%.
If used during Powerball, Powerball's effects are applied at the center of the landing zone.
Rammus Skill Order
Name
Level Up
Powerball
2
4
6
7
Defensive Ball Curl
1
12
14
15
Frenzying Taunt
3
8
10
11
Soaring Slam
5
9
13
Pros
1. Has a great Armor as Support Tank
2. Has a great mobility easy to rotate

3. Easy to engage with enemies.
Cons
1. Low late game damage
2. No AOE cc
Conclusion
Rammus is Tanky champion that has abilities to farm in the jungle with high mobility to rotate and support around the map.