Nasus is a Tanky Fighter in Wild RIft that has a low complexity of ability mechanics and controls, high ability to survive with defensive and movement abilities, good damage deals with a basic attack. Nasus is a Tier C Fighter.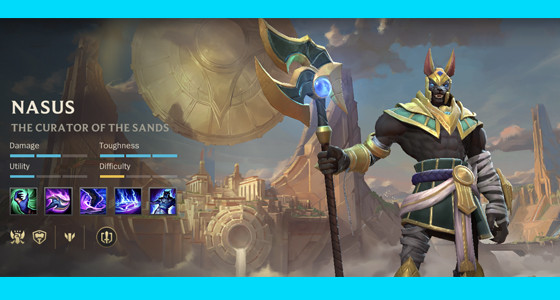 Best Wild Rift Nasus Build
Starting Item
Long Sword
Gained Nasus 12 attack damage
Core Items
Trinity Force
Gain 200 max health, 20 ATK DMG, 30% ATK SPD, 25 ability haste
Dead Man's Plate
Gain 250 max health, 50 Armor
Solari Chargeblade
Gain 25% CRT, 30% ATK SPD, 15 ability haste
Boots

Plated Steelcaps
Gain Footwear 40 move speed, 15 armor
Teleport Enchant
Teleport to an allied champion structure. Channeling for 3.5 seconds.
Final Build
Trinity Force
Teleport Enchant
Dead Man's Plates
Solari Chargeblade
Guardian Angel
Spirit Visage
Guardian Angel: Gain 40 Attack damage, 40 armor, and Resurrect restores 50% base health and 30% maximum mana after 4 seconds of stasis.
Spirit Visage: Gain 350% max health, 100% health regen, 50 magic resistance, 10 ability haste.
Best Nasus Runes
Grasp of the Undying: Every 4s in combat, your next attack on a champion will be enhanced based on your max health.

Heals: 2% of your ma health permanently increase your health by 5.
Bonus damage: 3% of your max health, magic damage.
One Ranged Champions: the effect are reduced by 40%.

Brutal: Gain 7 attack damage or 14 AP (Adaptive).
Adaptive Carapace: Gain 50% health. While below 50% health, gain 12 armor or 12 magic resist based on the damage type you took more over the last 60s.
Sweet Tooth: Gain Honeyfruit health by 20%. Whenever you or nearby ally eats a Honeyfruit gain 15 gold.
Nasus Spells
Flash: Teleport a short distance forward or towards the aimed direction,
Ghost: Gain a large burst of Movement Speed that then decays to 25% bonus Movement Speed for 8 seconds. With each takedown, Ghost's duration is extended by 6 seconds, refreshing its effects, up to the original amount.
Nasus Abilities
Soul Eater (Passive): Gain 12% Physical Vamp.
Siphoning Strike (1st): Empowers next attack within 10 seconds to deal an additional 25 physical damage.

If siphoning strike kills the target, its damage is permanently increased by 4 damage stacked.
Killing champions, large minions, and large monsters increase Siphoning Strike's damage by 8 stacked instead.

Wither (2nd): Slows enemy Movement Speed by 35% and Attack speed by 22.5% for 5 seconds. The Movement Speed slow increases to 45% over the duration.
Spirit Fire (3rd): Creates a flaming zone, dealing 55 magic damage. The zone persists for 5 seconds, dealing 11 magic damage over time and reducing Armor by 15%.
Fury Of The Sands (ULT): Enhance himself to gain 300 health, 25 Armor and Magic Resist for 15 seconds. Deals magic damage to nearby enemies equal to 3% of their health during the duration.

Siphoning Strike's cooldown is reduced by 50% during the duration.
The storm deals a max of 240 damage per second,
Nasus Skill Order
Name
Level UP
Siphoning Strike
1
3
6
7
Wither
4
8
10
11
Spirit Fire
2
12
14
15
Fury of the Sands
5
9
13
Conclusion
Nasus is a champion that easy to play and takes a short time to understand his skill. Just focusing on farming for his Siphoning Strike Stacked the more you get the stronger is Nasus. In the late game, he will one-shot any champions in the map.