Kai'sa is a Marksman & Assassin champion that has high ability to deal damage with basic attacks and abilities, low ability to survive & defend, no crowd control abilities. Kai'sa is a Tier S+ champion.
Check out Kai'sa Wild Rift Build down below: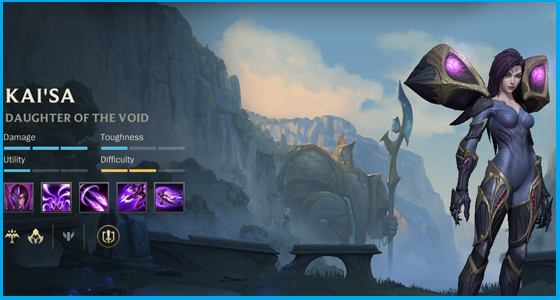 Best Wild Rift Kai'sa Build
Starting Items
Long Sword
Gain 12 attack damage
Core Items
Blade of the Ruined King
Gain 20 attack damage, 35% attack speed, 10% physical vamp.
Statikk Shiv
Gain 25% critical rate, 35% attack speed, 5% move speed.
Infinity Edge
Gain 55 attack damage, 25% critical rate.
Boots & Enchant
Gluttonous Greaves
Gain 40 move speed, +8% physical vamp, or 8% magical vamp.
Stasis Enchant
Become invulnerable and untargetable for 2.5 seconds, but unable to move, attack, cast abilities or use items.
Final Build
Blade of the Ruined King
Statikk Shiv
Stasis Enchant
Infinity Edge
Mortal Reminder
Guardian Angel
Mortal Reminder:

Gain 40 attack damage.

Last whisper: 16-30 armor penetration.
Sepsis: Dealing physical damage applies 40% Grievous wounds to enemy champions for 3 seconds. If the enemy is below 50% health. this effect is increased to 60% Grievous Wounds.
Grievous Wounds reduces the effectiveness of Healing and Regeneration effects.

Guardian Angel:

Gain 40 attack damage, 40 armor.

Resurrect: Upon taking lethal damage, restores 50% base health and 30% maximum mana after 4 seconds of stasis.
Best Kai'sa Runes
Conqueror: Gain stacks of Adaptive force when hitting a champion with separate attacks or abilities. Stacks up to 5 times. When fully stacked, deal bonus adaptive damage to champions.
Brutal: Gain 7 AD or 14 AP (Adaptive).
Hunter Titan: Gain 20 max health. Unique champion takedowns grant 20 max health and 3% tenacity.

Sweet Tooth

: Increases Honeyfruit healing by 20%. Whenever you or nearby ally eats a honeyfruit gain 15 gold.
Kai'sa Spells
Flash: Teleport a short distance forward or towards the aimed direction.

Heal

: Restores 60 health (60 -242) and grants 20% bonus Movement speed for 1 second to you and the most wounded nearby ally champion (effects are increased by 100% on the ally champion).

Healing is halved for champions recently affected by heal.
Kai'sa Abilities
Second Skin (Passive)

: Living Weapon: Kai'sa abilities evolve based upon the permanent stats she gains from items.

Caustic Wounds: Kai'sa attacks stack

Plasma

for 4 seconds and deal

5 bonus magic damage

(5 +

15%)

.

Plasma

detonates at 5 stacks, dealing

bonus magic damage

equal to

15%

(15% +

0.025%

) of their missing health. Nearby allies apply 1 stack to champions they immobilize.

Plasma

detonations deal a max of 400 damage to monsters.

Icathian Rain (1st)

: Launches 6 missiles that spill evenly among nearby enemies, each dealing

40 physical damage

(40 +

40% bonus

+

25%

). Additional hits on champions or monsters deal 25% damage.

Living weapon:

70 attack damage

(current: 0) - fires 12 missiles.
Minions below 35% health take 150% damage.

Void Seeker (2nd):

Fires a blast that

reveals

the first enemy hit, adds

2 Plasma

stacks, and deals

106 magic damage

(30 +

130%

+

70%

).

Living Weapon:

80 ability power

(current: 0) - Adds 3 stacks and refunds 70% cooldown on champion hits.

Supercharge (3rd)

: Charges up for 1 second(s). gaining 60% movement speed (60% +

100%

). For 4 second(s) after charging, gain

45% attack speed

.

Living Weapon:

65% attack speed

(current: 0%)- Grants

invisibility

during the charge up.

Killer Instinct (Ultimate)

: Dash to a location near an enemy champion marked by

Plasma

, gaining a shieldthat absorbs

133 damage

(75 +

100%

+

75%

) for 2 seconds.
Kai'sa Skill Order
Name

Level Up

Icathian Rain
1
4
6
7
Void Seeker
2
12
14
15
Supercharge
3
8
10
11
Killer Instinct
5
9
13
Pros
1. Has high damage output.
2. Very Strong in late game.
3. Has fast attack speed and good mobility.
4. Can wave clear very the minions very fast.
Cons
1. A little weak in early game.
2. Abilities require precise timing to output.
3. Difficult champion to play.
Conclusion
Kai'sa is a really strong champion with her high damage output with fast attack speed and good mobility. She is really strong in the late game. However, Kai'sa is a difficult champion to play you need to have a good understanding of her skill combo first.