Jayce is a Fighter champion that has high basic attacks and abilities, low ability to buff teammates and weaken or crowd control enemies, and low survival with defensive or movement abilities. Jayce is a Tier S champion.
Check out Jayce Wild Rift Build down below: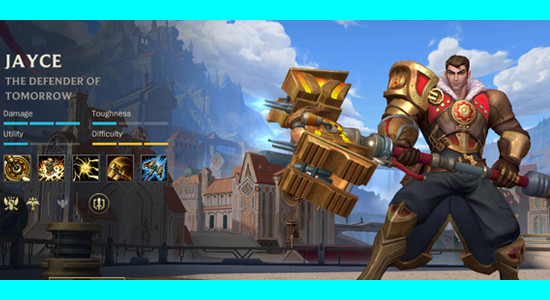 Best Wild Rift Jayce Build
Starting Item

Long Sword
Gain 12 attack damage
Core Items
Youmm's Ghostblade

Gain 55 attack damage, 10 ability haste, and 12 armor penetration
Black Cleaver

Gain 350 max heath, 40 attack damage, and 25 ability haste
Death's Dance

Gain 300 max health, 35 attack damage, 15 ability haste, and 10% physical vamp
Boots & Enchantment
Gluttonous Greaves
Gain 40 move speed, 8% physical vamp & magical vamp.
Stasis Enchant

Become invulnerable and untargetable for 2.5 seconds, but unable to move, attack, cast abilities or use item.
Final Build
Youmm's Ghostblade
Black Cleaver
Death's Dance
Serylda's Grudge

Guardian Angel

Gluttonous Stasis Enchant
Serylda's Grudge:

Gain 40 attack damage, 15 ability haste, and 16-30% armor penetration.

Guardian Angel:

Gain 40 attack damage, and 40 armor.
Best Jayce Runes
Conqueror: Gain stacks of Adaptive force when hitting a champion with separate attacks or abilities. Stacks up to 5 times. When fully stacked, deal bonus adaptive damage to champions.

Brutal

: Gain AD/AP.(Adaptive)

Bone Plating

: After taking damage from a champion, the next 3 champion abilities or attacks against you within 1.5s deal 30-60 less damage. (35s cooldown).

Sweet Tooth

: Increases Honeyfruit healing by 20%. Whenever you or nearby ally eats a honeyfruit gain 15 gold.
Jayce Spells
Flash: Teleport a short distance forward or towards the aimed direction.

Ignite:

Ignites target enemy champion, dealing 60 true damage over 5 seconds and applying 60%

Grievous Wounds

for the duration.
Jayce Abilities
Hextech Capacitor (P):

Transforming between the Mercury Hammer and

Mercury Cannon

grants 30 movement speed for 1.25 seconds.

To the Skies (1st):

Leaps to an enemy, dealing

60 physical damage

and slowing nearby enemies by 35% for 2 seconds.

Lightning Field (2nd):

Passive attacks with the Mercury Hammer restore 8 Mana.

Active: Releases an electrifying aura, dealing

100 magic damage

over 4 seconds to nearby enemies.

Thundering Blow (3rd):

Knocks a target and enemies near them backwards, dealing

magic damage

equal to 8% of their maximum health plus 0.

Mercury Cannon (Ult):

Transforms the Mercury Hammer into the

Mercury Cannon

, gaining new abilities and ranged attacks.

The next attack with the

Mercury Cannon

is empowered to deal an additional 13 magic damage and reduce the target's armor and magic resist by 11% for 5 seconds.
Jayce Skill Order
Name
Level Up
To the Skies


1

3
6
8
Lightning Field

4
7
10
11
Thundering Blow

2
12
14
15
Mercury Cannon

5
9
13
Pros
1. Strong Early-Mid Game.

2. Has Multiple Playstyles.
3. Good Damage Output.
Cons
1. Hard to play.

2. Very Squishy.
3. Not The Best Team Fighting.
4. Mechanically demanding.
Conclusion
Jayce is a Fighter he can deal a ton of output damage to the enemy. Jayce is hard to play because he has Multiple Playstyles and need a lot of time to understand his skill.