Janna is a Support & Mage champion that has a high ability to buff teammates and weaken or crowd control enemies, low difficulty and Janna is a Tier A+ champion.
Check out Janna Wild Rift Build down below: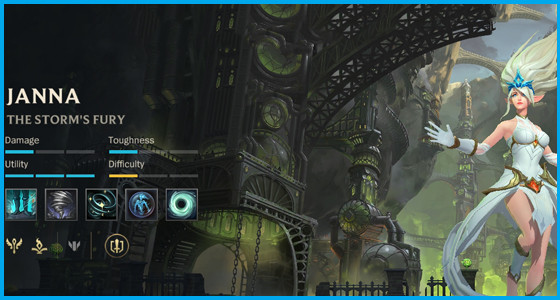 Best Wild Rift Janna Build
Starting Item
Amplifying Tome
Gain 25 ability power.
Core Items
Ardent Censer
Gain 250 max health, 60 ability power, 10 ability haste.
Staff of the flowing waters
Gain 65 ability power, 350 max mana, 20 ability haste.
Harmonic Echo
Gain 75 ability power, 300 max mana, 10 ability haste
Boots & Enchant
Ionian Boots of Lucidity
Gain 40 move speed, 15 ability haste, and reduces spell cooldown by 15%.
Redeeming Enchant

Reveal a position and after 2.5 seconds, a beam of light heals allies by 25-375, while enemies take 10% of their max health as true damage. Minions and monsters take 250 damage instead.

Can be used while dead. This effect is reduced by 50% if the target has been affected by another redemption in the last 20 seconds.
Final Build

Ardent Censer
Staff of Flowing Waters
Redeeming Enchant
Harmonic Echo
Rabadon's Deathcap
Athen's Unholy Grail
Rabadon's Deathcap:

Gain 120 ability power.

Overkill: increases ability power by 40%

Athen's Unholy Grail:

Gain 55 ability power, 40 magic resistance, 10 ability haste.

Blood Price: Stores 35% of pre mitigation damage dealt to champions as Blood, capped at 110-250 healing or shielding an ally consumes Blood to heal them for an equal value.
Best Janna Runes
Aery:

Your attacks and abilities send Aery to a target, damaging enemies or shielding allies.

Damage: 10-60 +20 bonus+

10%

Shield: 20-120 +

40% bonus

+

20%

Weakness

: Impairing the movement of enemy champions makes them take 5% more damage in the following 5s.

Loyalty:

You gain

2 AR

and

5 MR

. Your closet ally champion gains

5 AR

and

2 MR.

Pack Hunter:

While near ally champions, gain 2% movement speed. For each unique ally you participate in a takedown with, you gain

50 gold

and the ally gains

50 gold

.
Janna Spells
Flash

: Teleport a short distance forward or towards the aimed direction.

Heal

: Restores 80 health (80-360) and grants 30% bonus movement speed for 1 second to you and the most wounded nearby ally champion. Healing is halved for champions recently affected by heal.
Janna Abilities
Tail Wind (Passive):

Passively gain 8% Movement speed. Nearby allied champions also gain this bonus when moving towards Janna.

Howling Gale (1st):

Summons a whirlwind that gains damage, range, and knock-up duration as it charges up (max charge at 3 seconds).

Re-cast: Launches a whirlwind, dealing

60 to 120 magic damage

(60 +

40

to 120 +

85%

) and knocking up enemies in its path for 0.5 to 1.25 seconds. Each second charged increases damage by

20

(20 +

15%

), knock up duration by 0.25 seconds and travel range by 25%.
The Whirlwind always reaches its destination in 1.25 seconds.

Zephyr (2nd):

Passive: While Zephyr is not on cooldown, gain 6% movement speed and deal an additional

0 magic damage

(25% bonus) with attacks.

Active: Deals

55 magic damage

(55 +

60%

) + 25 bonus and slows the target by 30% (30% +

0.06%

) for 2 seconds.

Eye Of The Storm (3rd)

: Blesses an allied champion o turret with a

shield

that

absorbs 90 damage

(90 +

80%)

and grants

10 attack damage

(10 +

10%

) while it holds. The shield decays over 5 seconds.

Monsoon (Ultimate)

: Calls forth mighty winds of salvation to knock back surrounding enemies and

restore 100 health

(100 +

50%

) to nearby allies each second for 3 seconds.
Janna Skill Order
Name
Level Up
Howling Gale
2
12
14
15
Zephyr
1
8
10
11
Eye Of The Storm
3
4
6
7
Monsoon
5
9
13
Pros
1. Has good shield abilities to protect teammate
2. Has great support utility abilities such as heal, shield, boost movement speed, slow down enemies.
3. Easy to Play

Cons
1. relies on her teammate.
2. Very Squishy
Conclusion
Janna is a good supporter and easy to play in the duo lane she has pretty good skills to keep her teammates surviving in the team fight.