Irelia is a Fighter & Assassin champion that has good damage deal with basic attacks and abilities, ability to survive with defensive and movement speed and Irelia's playstyle is a bit hard to understand. Irelia is a Tier S champion.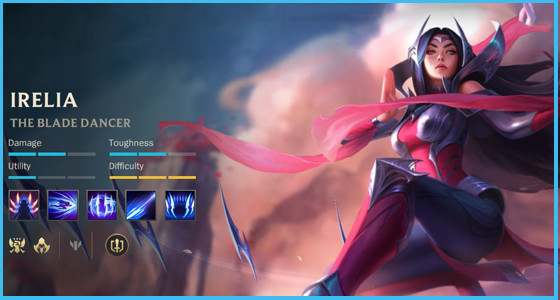 Best Wild Rift Irelia Build
Down below is the best Irelia build if you play as a Jungler.
Starting Items
Long Sword
Gain 12 attack damage
Core Items
Blade of the Ruined King
Gain 20 attack damage, 35% attack speed, 10% physical vamp.
Trinity Force
Gain 250 max health, 25 attack damage, 30% attack speed, 25 ability haste.
Death's Dance
Gain 35 attack damage, 40 armor, 15 ability haste.
Boots & Enchant
Mercury's Treads
Gain 40 move speed, 10 magic resist, reduce the duration of stuns, slow, taunts, fear, silences, blinds, and immobilizes by 35%.
Protobelt Enchant
Dash forward and unleash a cone of missiles that deal 75 - 145 magic damage. If champions or monsters are hit by more than on missile, the additional missiles deal only 10% damage.
Final Build
Blade of the Ruined King
Trinity Force
Mercury's Treads
Death's Dance
Guardian Angel
Sterak's Gage
Guardian Angel

: Gain 40 attack damage, 40 armor.

Resurrect: Upon taking lethal damage, restores 50% base health and 30% maximum mana after 4 seconds of stasis (210 cooldown).

Sterak's Gage

: Gain 400 max health.

Heavy-Handed: +50% base attack damage. Only applies to melee champions.
Lifeline: Damage that puts you under 35% health grants a shield equal to 75% bonus that decays over 3 seconds (90s cooldown)
Sterak's Fury: Triggering Lifeline increases size and grants 30% Tenacity for 8 seconds.
Best Irelia Runes
Down below is a full jungler rune page for Irelia.
Conqueror:

Gain stacks of Adaptive Force when hitting a champion with separate attacks or abilities. Stacks up to 5 times. When fully stacked, deal bonus adaptive damage to champions.

Per stack: 2-6 bonus AD or 3 - 9 AP for 6s.
Fully stacked bonus Melee: 8% | Ranged: 6% bonus adaptive damage to champions.

Brutal:

Gain 7 AD or 14 AP. (Adaptive)
Hunter Titan:

Gain 20 max health. Unique champion takedowns grant 20 max health and 3% tenacity.

Hunter Genius

: Gain 3 Ability haste. Unique champion takedowns grant 3 ability haste.
Irelia Spells
Flash: Teleport a short distance forward or towards the aimed direction.

Smite:

Deal 440 true damage (440-1000) to a large or epic monster or minion. Smiting monsters

restores 127 health

(70 + 10%). Slaying 4 large monsters upgrades smite to

Chilling Smite

or

Challenging Smite

which can target enemy champions.
Irelia Abilities
Ionian Fervor (Passive)

: Hitting enemies with abilities grant 5%

bonus attack speed

for 6 seconds, stacking up to 4 times.

At max stacks, attacks deal an additional

10 magic damage

(10 +

25% bonus

)

on hit

.
Attacking enemy champions refreshes the duration. An ability grants multiple stacks upon hitting multiple champions deals 50% damage to monsters.

Bladesurge (1st)

: Dashes through an enemy, dealing

54 physical damage

(15 +

60%

) and

healing

herself for

13

(19%). Bladesurge's cooldown is refreshed if the target was

Marked

or dies to Bladesurge.

When aimed, Bladesurge will prioritize targets it will reset on. Deal 150% damage to minions.

Defiant Dance (2nd):

Hold: Defends with her blades for up to 1.5 seconds, taking 50% (50 +

7%

) reduced damage.

Release: Whips the blades forward, dealing

42 physical damage

(10 +

50%

+

40%

), increased by up to 100% with charge time.

Flawless Duet (3rd)

: Send a blade to target location. May be recast within 3 second(s) to send another blade.

The blades converge upon reaching their destination, dealing

100 magic damage

(100 +

80%

), stunning for 1 second(s), and Marking enemy champions and large monsters hit for 5 second(s).

Vanguard's Edge (ULT)

: Fires a storm of blades that deals

125 magic damage

(125 +

70%

) and

Marks

enemy champions and large monsters for 5 second(s).

The blades explode into a wall for 3 seconds upon hitting an enemy champion. The blade wall deals

100 magic damage

(100 +

70%)

and slows by 90% for 1.5second(s).
Irelia Skill Order
Name
Level Up
Bladesurge
1
4
6
7
Defiant Dance
3
12
14
15
Flawless Duet
2
8
10
11
Vanguard's Edge
5
9
13
Irelia Combos
Down below is Irelia combos playstyle:
1.

Flawless Duet ->

Bladesurge ->

Vanguards Edge ->

Bladesurge ->

Bladesurge.
2.

Vanguards Edge ->

Bladesurge ->

Bladesurge ->

Defiant Dance.
3.

Bladesurge (Stacking up to 4 times) ->

Flawless Duet ->

Bladesurge -> (Auto Attack) ->

Bladesurge.
Pros
1. High outplay potential with massive mobility.
2. Is able to be a lane bully if played well.
3. High Mobility.
4. Easy to farm.
Cons
1. Mobility is cut a lot without minions/champions to dash to.
2. Hard champion to master perfectly all matchups.
3. Requires a lot of practice to learn her mechanics.
4. Much weaker if unable to stack passive.
Conclusion
Irelia is one of the best jungler in the game. She can easily farm in the jungle, get level up faster, high potential to gank in the lane with high massive mobility. But this champion is a little bit hard to play.