Garen is a Fighter & Tank champion that has medium basic attacks, a high ability to survive with defensive, and a low ability to buff teammates. Garen is a Tier S champion.
Check out Garen Wild Rift Build down below: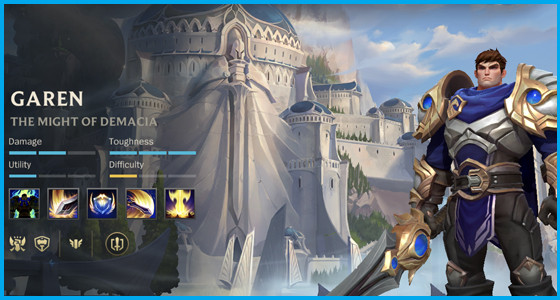 Best Garen Build Wild Rift
Starting Item
Long Sword
Gain 12 attack damage.
Core Items
Black Cleaver
Gain 350 max health, 40 attack damage, 25 ability haste.
Youmuu's Ghostblade
Gain 50 attack damage, 10 ability haste.
Death's Dance
Gain 300 max health, 35 attack damage, 15 ability haste.
Boots & Enchant
Plates Steelcaps
Gain 40 move speed, 15 armor
Glorious Enchant
Gain 15% move speed for 4 seconds, increasing to 75% towards enemy champions or turrets. After 4 seconds or reaching an enemy champion emits a shockwave that slows nearby enemies by 50% for 2 seconds.
Final Build
Black Cleaver
Yoummu's Ghostblade
Glorious Enchant
Death's Dance
Guardian Angel
Sterak's Gage
Guardian Angel:

Gain 40 attack damage, 40 armor

Resurrect: Upon taking lethal damage, restores 50% base health and 30% maximum mana after 4 seconds of stasis.

Sterak's Gage

: Gain 400 max health.

Heavy-Handed: 50% base attack damage. Only applies to melee champions.
Lifeline: Damage that puts you under 35% health grants a shield equal to 75% bonus that decays over 3 seconds.
Sterak's Fury: Triggering lifeline increases size and grants 30% tenacity for 8 seconds.
Best Garen Runes
Grasp of the Undying: Every 4s in combat, your next on a champion will be enchanced based on your max health.

Heal: 2% of your max health Permanently increases your health by 5 bonus damage: 3% of your max health, magic damage.
On range champions, the effects are reduced by 40%.

Brutal: Gain 7 AD or 14 AP (Adaptive).
Adaptive Carapace: Gain 50 max health. While below 50% health, gain 12 AR or 12 MR based on the damage type you took more of over the last 60s. (Physical grants AR | Magic grants MR).

Sweet Tooth

: Increases Honeyfruit healing by 20%. Whenever you or nearby ally eats a honeyfruit gain 15 gold.
Garen Spells
Flash: Teleport a short distance forward or towards the aimed direction.

Ignite:

Target enemy champion, dealing 60 true damage (60-410) over 5 seconds and applying 60% Grievous Wounds for the duration.

Grievous Wounds reduces the effectiveness of Healing and Regenerate effects.
Garen Abilities
Perseverance (Passive)

: If garen has not been struck by damage or enemy abilities within the last 5 seconds, he regenerates

1.2% missing health

per second.

Damage from minions and non-epic monsters does not affect this effect.

Decisive Strike (1st):

Breaks free from all slows, becoming immune to them for 0.5 seconds and gaining 30% Movement speed for 3 seconds.

The next attack within 3 seconds is

empowered

to deal an additional

56 physical damage

(30+

40%

) and silence the target for 1.5 seconds.

Courage (2nd):

Reduce damage taken for 2 seconds. For the first 1 second(s), the damage is reduced by 60% and Garen gains 60% Tenacity.

Damage is reduced by 30% for the remaining duration.
Tenacity reduces the duration of most movement impairing effects.

Judgment (3rd):

Rapidly spin in a bladestorm for 3 seconds, dealing 3

1 physical damage

(11 +

30%

) 8 times. Enemies hit by the bladestorm's edge are c

ritically struck

for 125% damage.

Re-cast: Stops spinning.
Deals 60% damage to minions.

Demacian Justice (Ultimate):

Calls forth the might of Demacia to execute an enemy champion dealing true damage equal to 150 plus 15% (15% +

0.08% bonus physical damage

) of the target's missing health. Nearby enemies take

true damage

equal to 75 plus 7.5% (7.5% + 0.04% bonus physical damage) of their missing health.

Deals a max of 600 damage to epic monsters.
Garen Skill Order
Name
Level Up
Decisive strike
1
8
10
11
Courage
3
12
14
15
Judgment
2
4
6
7
Demacian Justice
5
9
13
Pros
1. Has Huge damage with his Judgement.
2. Lots of Regeneration with his passive.
3. Heavy Burst damage with his full combo.
4. Good at early and mid-game.
Cons
1. Damage Fall off at the late game.
2. Ez to kite with CC champions.
3. Hard to join the team fight.
Conclusion
Garen is a good champion that can be tanky and deal AD at the same time. He is a good champion for new players and his abilities are easy to understand.