Galio is a Tank & Mage champion that has a high ability to survive with defensive and movement ability, good damage deal with basic attacks & skills. Galio is a Tier S champion.
Check out Galio Wild Rift Build down below: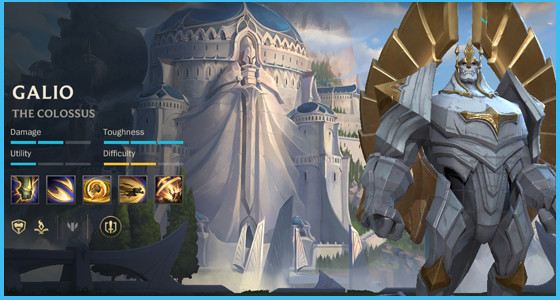 Best Wild Rift Galio Build
Starting Items
Amplifying Tome
Gain 25 ability power.
Core Items
Rod of Ages
Gain 205 max health, 60 ability power, 300 max mana.
Rylai's Crystal Scepter
Gain 350 max health, 70 ability power.
Liandry's Torment
Gain 250 max health, 70 ability power.
Boots & Enchantment
Ionian Boots of Lucidity
Gain 40 move speed, 15 ability haste, and reduces spell cooldown by 15%
Stasis Enchant
Become invulnerable and untargetable for 2.5 seconds, but unable to move, attack, cast abilities or use items.
Final Build
Rod of Age
Rylai's Crystal Scepter
Stasis Enchant
Liandry's Torment
Morellonomicon
Void Staff
Void Staff:

Gain 70 ability power, 40% magic penetration.

Morellonomicon:

Gain 300 max health, 70 ability power, 15 magic penetration.
Best Galio Runes
Aftershock:

After immobilizing an enemy champion, gain defenses and later deal a burst of magic damage around you.

Defense: 35 AR + 60% bonus and 35 MR + 60% bonus for 2.5s
Damage: 12-110 + 3% max health, magic damage.

Brutal:

Gain 7 AD or 14 AP.

Second Wind:

Gain 5 health every 5 seconds. After taking damage from an enemy champion regenerate 3+(1.5% of your missing health) over the next 5 seconds. This effect is doubled for melee champions.

Sweet Tooth:

Increases Honeyfruit healing by 20%. Whenever you or a nearby ally eats a Honeyfruit gain 15 gold.
Galio Spells
Flash: Teleport a short distance forward or towards the aimed direction.

Ignite:

Target enemy champion, dealing 60 true damage (60-410) over 5 seconds and applying 60% Grievous Wounds for the duration.

Grievous Wounds reduces the effectiveness of Healing and Regenerate effects
Galio Abilities
Colossal Smash:

Enhances his next attack to deal

73 magic damage

(15 +

100% physical

+

50%

+

60% bonus

) to nearby enemies.

Winds of War:

Fire two windblasts that deal 70 magic damage (70 + 75%) and converge into a tornado.

The tornado deals magic damage equal to 8% (8 + 2) of target's maximum health over 1.5 seconds.

Shield of Durand:

Passive: Every 12 seconds, upon taking magic damage, Galio gains a

shield

that

absorbs 46

magic damage

(8% HP) for 3.5 seconds.

Hold: Enters a defensive stance, slowing himself by 25% for up to 2 seconds. Takes 25% (25 + 5% AP +

8% MR

) reduced magic damage and 12.5 (12.5% +

2.5% AP

+

4% MR

) reduced physical damage.
Release: Deals

40 magic damage

(40 +

45% AP

) to nearby enemies and taunts them for 0.5-1.5 seconds, increased with hold time.

Justice Punch:

Dashes forward until he hits an enemy champion or terrain, dealing

90 magic damage

(90 +

90%

) to enemies and knocking them for 0.75 seconds.

Deal 50% damage to minions and monsters.

Hero's Entrance:

Grants Shield of Durand'spassive shield for 3.5s seconds to all allies champions near the target and designates the position as his landing spot.

After 2.5 seconds Galio arrives at the location, dealing

150 magic damage

(150 +

70%

) to nearby enemies and knocking them up for 0,75 seconds.
Galio Skill Order
Name
Level Up
Winds of War
1
4
6
7
Shield of Durand
2
8
10
11
Justice Punch
3
12
14
15
Hero's Entrance
5
9
13
Pros
1. Tank but high damage
2. Easy clear minions wave
3. Great roaming champion
4. Can play all role except ADC
5. Great crowd control champion
Cons
1. Spent lots of mana
2. Can be easily countered
3. Slow skill launch
Conclusion
Galio is a great champion that can build both tank or mage items in the game. He is a good champion for roaming and has good crowd control.