Camille is a Fighter champion with great true damage output, good ability to survive with defensive or movement speed, and hard to play. Camille is a Tier S+ champion.
Check out Camille Wild Rift Build down below: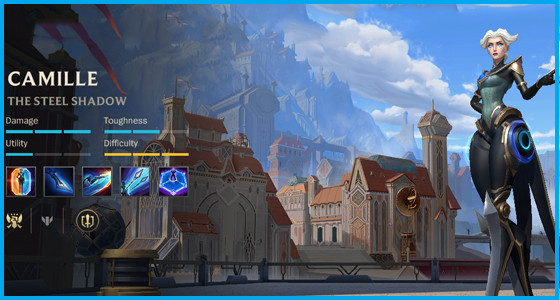 Best Wild Rift Camille Build
Down below is the best Camille build if you play in the Solo lane.
Starting Item
Long Sword
Gain 12 attack damage.
Core Items
Trinity Force
Gain 250 max health, 25 attack damage, 30% attack speed, 25 ability haste.
Sterak's Gage
Gain 400 max health, Heavy-handed 50% base attack damage.
Guardian Angel
Gain 40 attack damage, 40 armor.
Boots & Enchant
Plated Steelcaps
Gain 40 move speed, 15 armor.
Redeeming Enchant
Reveal a position and after 2.5 seconds, a beam of light heals allies by 25-375, while enemies take 10% of their max health as true damage. Minions and monsters take 250 damage instead.
Final Build

Trinity Force
Redeeming Enchant
Sterak's Gage
Guardian Angel
Death's Dance
Randuin's Omen
Death's Dance:

Gain 35 attack damage, 40 armor, 15 ability haste.

Dance champion takedowns cleanse Cauterize's remaining damaged pool and restores 15% of your maximum health over 2 seconds.
Cauterize: 35% of physical damage received (15% if the equipped champion is ranged) is dealt to you over 3 seconds as true damage instead.

Randuin's

Omen:

Gain 400 max health, 55 armor.

Armored: Reduces damage from Critical Strike attacks by 15%.
Cold Steel: Reduce the Attack speed of enemies by 15% for 1.5 second when struck by an attack.
Best Camille Runes
Down below are the best runes built for Camille.
Grasp of the undying

: Every 3s in combat, your next attack on a champion will be enhanced.

Bonus damage: 3% of your max health as magic damage.
Heal: 2% of your max health Permanently increase your health by 5 on ranged champions, the effects are reduced by 40%.

Brutal:

Gain 7 AD or 14 AP. (Adaptive)

Nullifying Orb

: If you would take damage from a champion that causes you to fall below 35% of your maximum health, gain a shield for 4 seconds.

Shield: 80 + 50% bonus + 30%
Cooldown: 60s

Demolish:

When within 5.5 range of the enemy turret, gain a charge every 0.5 seconds, up to 6 times. When fully charged, your basic attack against the turret deals an additional (200 + 25% maximum health) Physical damage.
Camille Spells
Flash: Teleport a short distance forward or towards the aimed direction.

Ignite:

Target enemy champion, dealing 60 true damage (60-410) over 5 seconds and applying 60% Grievous Wounds for the duration.

Grievous Wounds reduces the effectiveness of Healing and Regenerate effects
Camille Abilities
Adaptive Defenses (Passive)

: Attacking an enemy champion grants a

shield

that absorbs

130

physical

/

magic

damage (

20%

) for 2s.

The shield type is based on the type of damage the attacked target deals.

Precision Protocol (1st):

Empowers

the next attack to deal

70 physical damage

(120%) and grant 25% movement speed for 1s. Protocol can then be recast within 4s.

If the second Precision Protocol hits 1.5s after the first, it deals true damage instead.

Tactical Sweep (2nd):

Slices in a direction, dealing

70 physical damage

(70 +

70% bonus

). Enemies hit by the outer half are slowed by 80% for 2s and take bonus

physical damage

equal to

4%

(4% +

0.03% bonus

) of their maximum health.

Camille

heals

for 100% of the bonus damage dealt to champions.

Hookshot (3rd):

First cast: Fires a Hookshot that attaches to terrain, pulling Camille to it.

Second cast: Dashes from the wall, dealing

60 physical damage

(60 +

75% bonus

) on landing. If the dash hits an enemy champion, they are stunned for 0.75s and Camille gains 50% Attack speedfor 5s.

The Hextech Ultimatum (ULT)

: Leap to the enemy champion, dealing

magic damage

equal to

30 plus 15%

of their current health, knocking away other enemies and creating an inescapable zone for 2s.

Hextech Ultimatum ends when Camille leaves the zone.
Camille Skill Order
Name
Level Up
Precision Protocol
2
4
6
7
Tactical Sweep
1
12
14
15
Hookshot
3
8
10
11
The Hextech Ultimatum
5
9
13
Skill Combos
1.

Tactical Sweep >

Hookshot >

Precision Protocol
2.

Tactical Sweep >

Hookshot >

The Hextech Ultimatum >

Precision Protocol
Pros
1. High outplay potential and also can split push well.
2. Good Mobility and true damage.
3. Good in 1vs 1.
4. Her Passive make sure she wins a trade.
Cons
1. Bad trade in the early game.
2. Hard to get back if she misses up her landing phase.
3. Hard Champion to play (Need to understand her skill well).
4. Can't tank in the teamfight.
Conclusion
Camille is one of the best Solo champions in the game. With her good mobility and true damage, she can split push and win the 1 vs 1 fight within just 1 or 2 items. Camille's playstyle is a bit hard to understand you need more to time practice and understand her abilities.