Caitlyn is a Marksman in Wild RIft that has high damage with basic attacks and abilities, low survive with defensive or movement abilities, and has low complexity of ability mechanics and controls. Caitlyn is a Tier S Marksman.
Check out Caitlyn Wild Rift Build down below: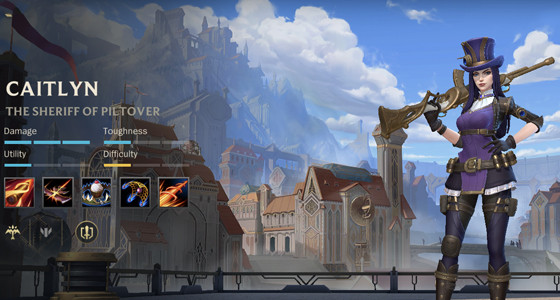 Best Wild Rift Caitlyn Build
Starting Item

Long Sword
Gain 12 attack damage
Core Items
Infinity Edge
Gain 55 attack damage, 25% critical rate
Statikk Shiv
Gain 25% critical rate, 35% attack speed
Rapid Firecannon
Gain 25% critical rate, 35% attack speed
Boots & Enchantment

Gluttonous Greaves
Gain 40 move speed, 8% Physical vamp & magical vamp
Stasis Enchant
Become invulnerable and untargetable for 2.5 seconds, but unable to move, attack, cast abilities or use items.
Final Build
Infinity Edge
Statikk Shiv
Gluttonous Greaves
Rapid Firecannon
Mortal Reminder
Bloodthirster
Mortal Reminder: Gain 40 Attack damage, +16-30% Armor penetration, also deals physical damage applies 40% grievous wounds to enemy champion for 3 seconds.
Bloodthirster: Gain 50 Attack damage, 25% critical rate, 15% physical vamp, if Physical Vamp over heals you, generating a shield that absorbs 40-320 damage. This shield decays out of combat over 10 seconds.
Best Caitlyn Runes
Conqueror: Gain stacks of Adaptive force when hitting a champion with separate attacks or abilities. Stacks up to 5 times. When fully stacked, deal bonus adaptive damage to champions.
Brutal: Gain 7 AD or 14 AP (Adaptive).
Hunter Titan: Gain 20 max health. Unique champion takedowns grant 20 max health and 3% tenacity.

Sweet Tooth

: Increases Honeyfruit healing by 20%. Whenever you or nearby ally eats a honeyfruit gain 15 gold.
Caitlyn Spells
Flash: Teleport a short distance forward or towards the aimed direction.

Heal

: Restores 80 health (80-360) and grants 30% bonus movement speed for 1 second to you and the most wounded nearby ally champion. Healing is halved for champions recently affected by heal.
Caitlyn Abilities
Headshot (Passive

): Every 6 attacks fires a headshot, dealing 29 bonus physical damage (50% +125%). Trapped or netted enemies trigger a headshot that has double range.

Piltover Peacemaker (1st)

: Fire a narrow piercing bullet that deals 133 physical damage (60 +125%). Hitting an enemy expands the bullet, but reduces subsequent damage by 40%.
Yordle Snap Trap (2nd): Sets a trap that enemy champions can spring, immobilizing them for 1.5second and Revealing them for a short duration.
90 Caliber Net (3rd): Launches a net, knocking Caitlyn backwards. The net deals 70 magic damage (70+80%) and slow by 50% for 1.5seconds.
Ace In The Hole (ULT): Lines up the perfect shot. Revealing an enemy champion for 1.5 seconds before dealing physical damage equal to 200 (200 + 200% bonus) plus 20% of their health. Enemy champions can intercept the bullet before it hits their ally.
Caitlyn Skill Order
Name
Level up
Piltover peacemaker
1
4
6
7
Yordle Snap Trap
2
8
10
11
90 Caliber Net
3
12
14
15
Ace In The Hole
5
9
13
Pros
1. Has high Range.
2. High DPS Output.
3. High Zoning Potential.
4. Strong Early/Late Game.
5. Outstanding farming capabilities.
Cons
1. A little Weak Mid Game.
2. Easily Punished If Out Of Position.
3. Squishy.
4. Ultimate is blocked easily.
Conclusion
Caitlyn is a strong marksman with high range attacks & high DPS output, She is really strong in the early & late games.