Welcome to TFT Super Brawl Tournament information including Rules, Teams, and Prize Pool here.
Table of Contents
Super Brawl Overview
Here is some key information about Super Brawl:
This tournament will be played in Regular Mode, not Double Up.
Nine teams of two players from nine regions
Three game days: Brawl Stage (Feb 4 - 5) and Finals (Feb 6)
5000 Euros cash prize and 2 Rising Legends EMEA Finals spots (1 team)
Super Brawl Tournament Format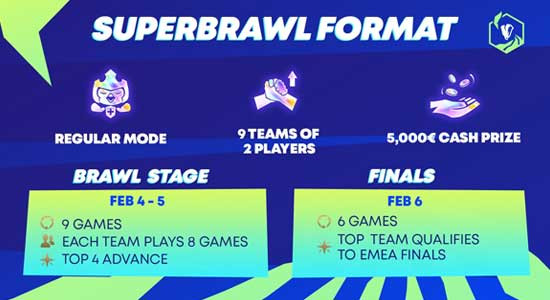 TFT Super Brawl Tournament will be joined by 9 teams from their local tournaments. Each team has 2 players to compete with the other 8 teams to win 5000 euros cash prize and spot to the Rising Legends Finals.
Brawl Stage
The Brawl Stage will last for 2 days (4 - 5 Feb) with 9 games being played across two days. These matches are completed with each pair sitting out a single match accommodate for all nine regions. The top 4 teams from the Brawl Stage qualify for the finals.
Finals
The top 4 teams from the Brawl Stage will be played in Finals to compete for the team spot at the TFT Rising Legends Finals and the 5000 euros cash prize. Super Brawl Finals will play in a single lobby and play 6 games to find the best team from all regions.
Eligibility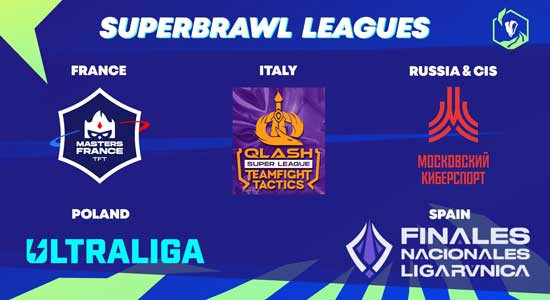 To play in the Super Brawl, teams must first qualify through their local tournaments. They are the following:
France - Master France TFT
Italy - QLASH TFT Super League
Poland - TFT Ultraliga
Spain - National Finals of Liga Rúnica
These teams will be joined by the winner of the already concluded MK TFT Tournament in CIS:
Conclusion
TFT Super Brawl will start on 4 Feb 2022 and End on 6 Feb 2022 with the 5000 euro cash prize and 2 spots (1 team) for the Rising Legends Finals. You can watch the tournament live gameplay on Twitch Channel of Teamfight Tactics.